Twinsburg, OH – BAWLS Guarana is pleased to announce that BAWLS Guarana ZERO is now available to consumers in the iconic bumpy 10oz. bottle.
The highly caffeinated "lightning in a bottle" was initially released in a 16oz. sleek aluminum can and is now expanding packaging into the signature glass bottle. BAWLS Guarana ZERO has the same flavor and boost as our original soda, but zero sugar and calories, something that fans were seeking. BAWLS Guarana ZERO brings a uniqueness to the market as a premium, highly caffeinated guarana option.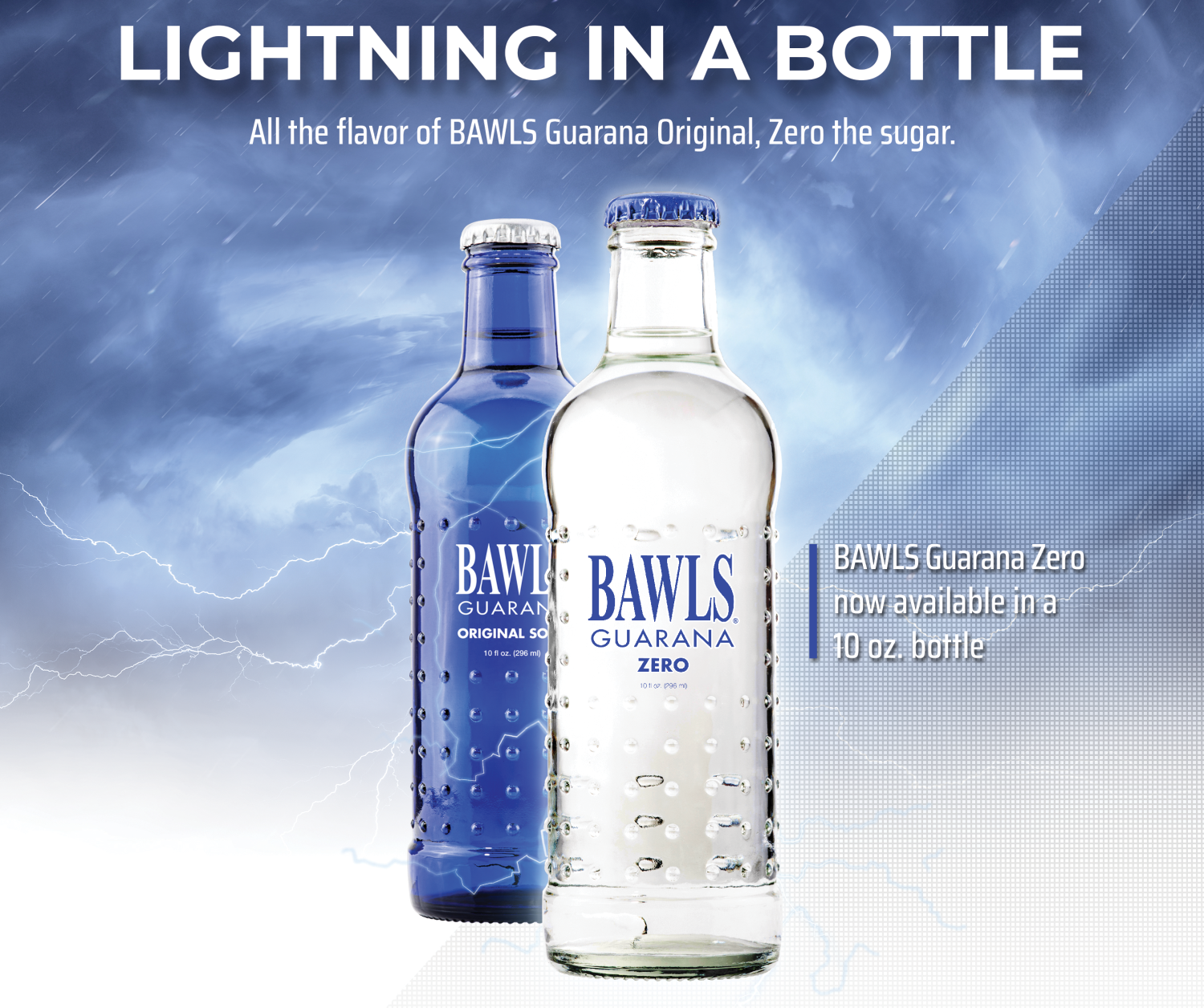 "Our BAWLS Team is extremely excited about bringing this zero sugar soda option to market in our iconic glass bottle, and we are eager to share the news with our fans," says BAWLS Guarana CEO, Jon Gunnerson.
In preparation for the launch, BAWLS Guarana will be planning online promotions and deals to ensure fans and new BAWLS customers can conveniently get their BAWLS Guarana ZERO fuel.
In addition, BAWLS Guarana continues to expand packaging options by recently adding 4-pack carriers to its robust portfolio. With the growth of muti-pack options, BAWLS Guarana now offers the Original, Cherry, and Root Beer 10oz. bottle to consumers in a 4-pack carrier at checkout.
All BAWLS Guarana products are available in-store at select retailers and online at the official BAWLS Guarana website, Amazon, and Walmart.com.
---
About BAWLS:  BAWLS Guarana is a refreshing, super caffeinated soda, infused with Guarana, a naturally caffeinated berry.  BAWLS' smooth taste, eye-catching packaging, and naturally caffeinated kick has fueled the days and nights of millions of heavy-eyed students, techies, professionals, and gamers everywhere since 1996.  Headquartered in Twinsburg, OH, BAWLS Guarana beverages are available at supermarkets, specialty stores, and electronic retailers across the USA. In addition, BAWLS has partnered with FedEx Supply Chain for the direct-to-consumer business with their own E-Commerce store, Amazon, Wal-Mart, and additional online options. For more information, visit BAWLS.com.
For distribution opportunities, please contact BAWLS GUARANA at 888-731-9708 or info@bawls.com.
Media Contact:
Kellie D'Amato
info@bawls.com