What is a BAWLS Subscription?
You can now subscribe to automatically order your favorite case of BAWLS every 2 weeks, every month, or every 3 months. 
Subscriptions include $5 off all cases (so you always get free shipping)
How do I sign up for a subscription?
Head to our shop and find the 24-pack of your choosing (bottle or can!)
Select how often you'd like to receive your case of BAWLS - Every 2 weeks, every month, or every 3 months.  Then add it to your cart - easy as that! And if you want more than one, adjust to quantity to your liking.
At checkout, you will be prompted to create an account so you can manage your subscription after you order.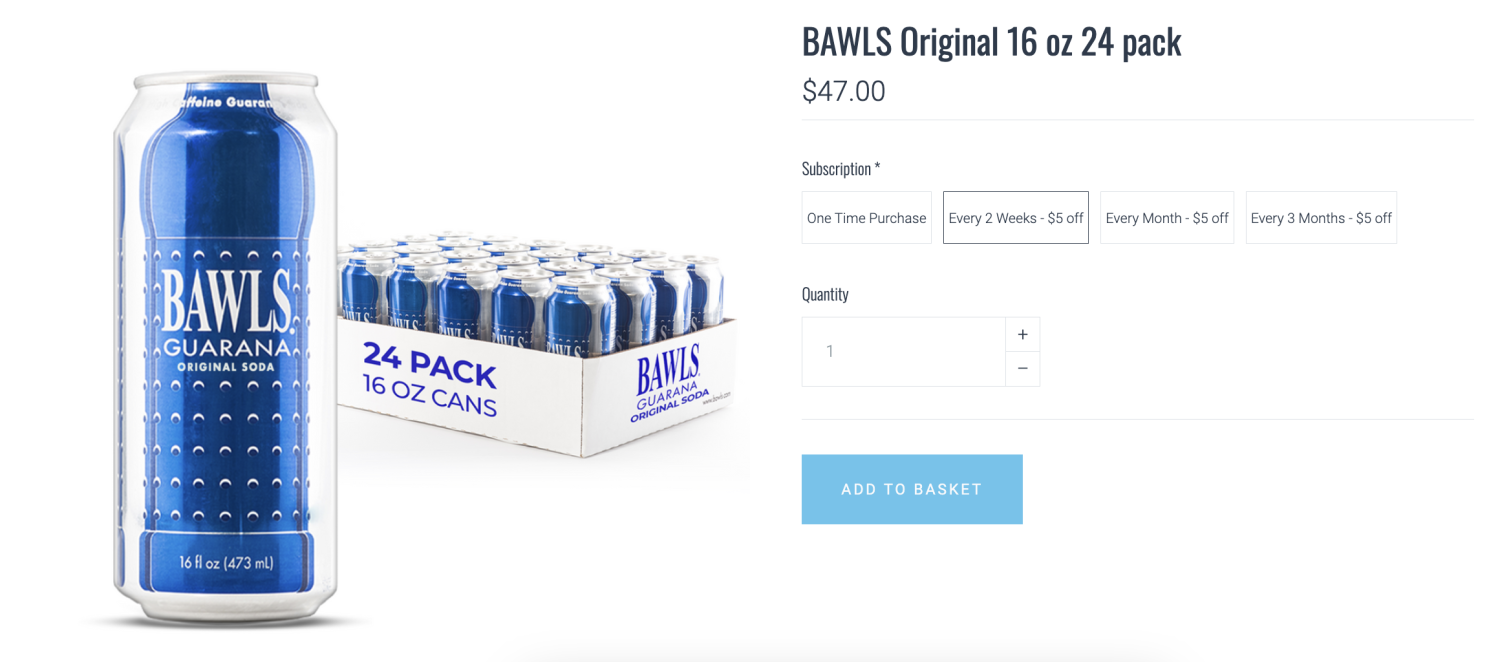 Can I subscribe to any pack of BAWLS?
We currently only offer subscriptions to 24-packs (bottles and cans)
How do I subscribe to multiple flavors?
Once you add one flavor to your cart, all you have to do is add another flavor to your cart with the same subscription option. Note: if you add another case to your cart without selecting your frequency, it will not be added to your subscription.
Can I swap flavors?
Yes! Swap flavors anytime without canceling your subscription. 
Managing Your Subscription:
How do I view my subscription? 
Go to our shop and login to your account by clicking the person icon in the top right. 
Once logged in, click "My Subscriptions" on the left menu to view your subscriptions.
To manage your subscriptions, click the "View" button under the item you'd like to change. Select the dropdown "Actions" tab to edit your subscription.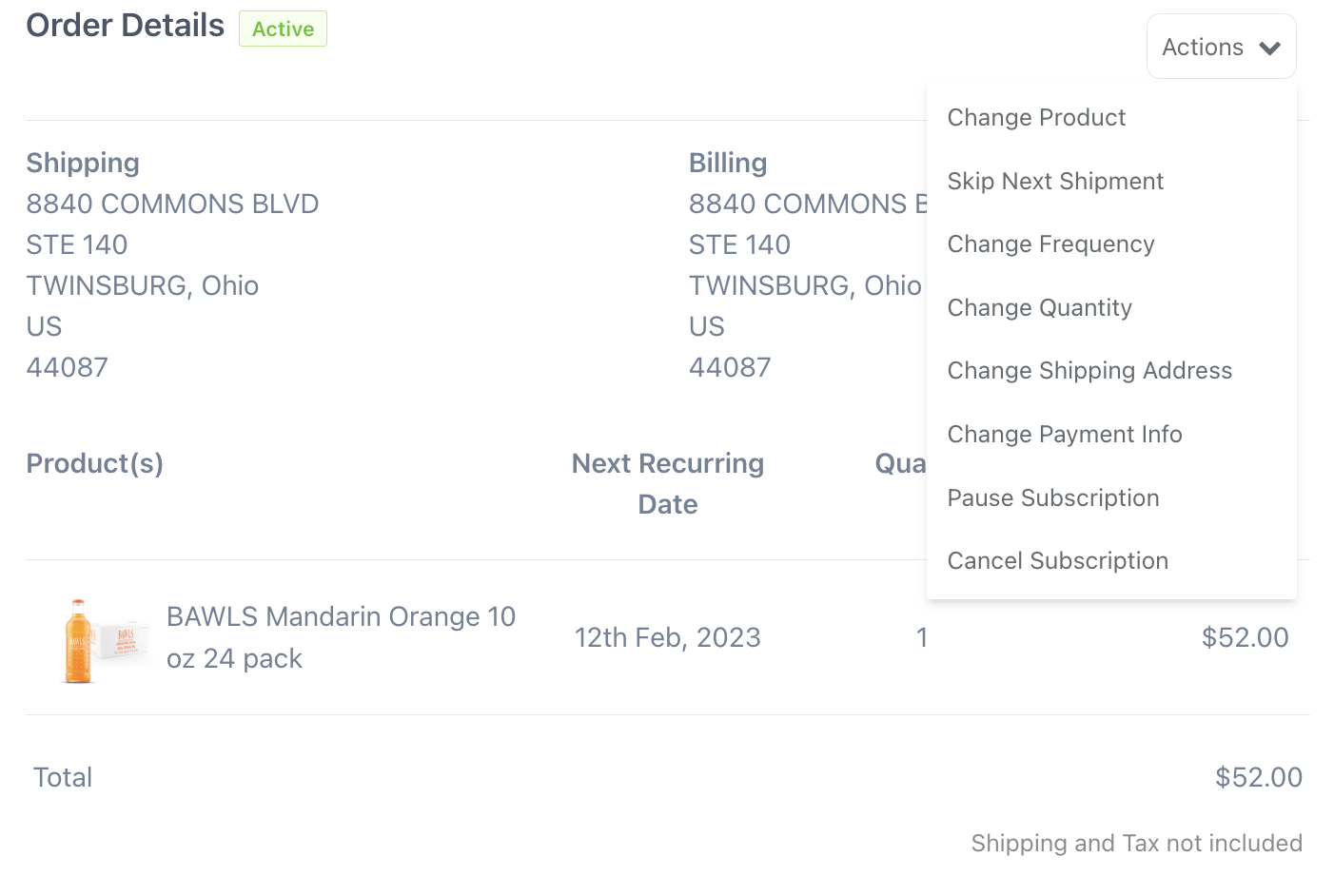 Can I switch my shipment frequency?
A BAWLS shipment every 3 months not enough? Easily switch how often you want your cases at any point. Click the "Actions" dropdown menu and select "Change Frequency". There you will be easily able to switch your shipment frequency and adjust to quantity, as well. 
How do I change flavors?
Select "Change Product" in the "Actions" dropdown menu when viewing your subscription.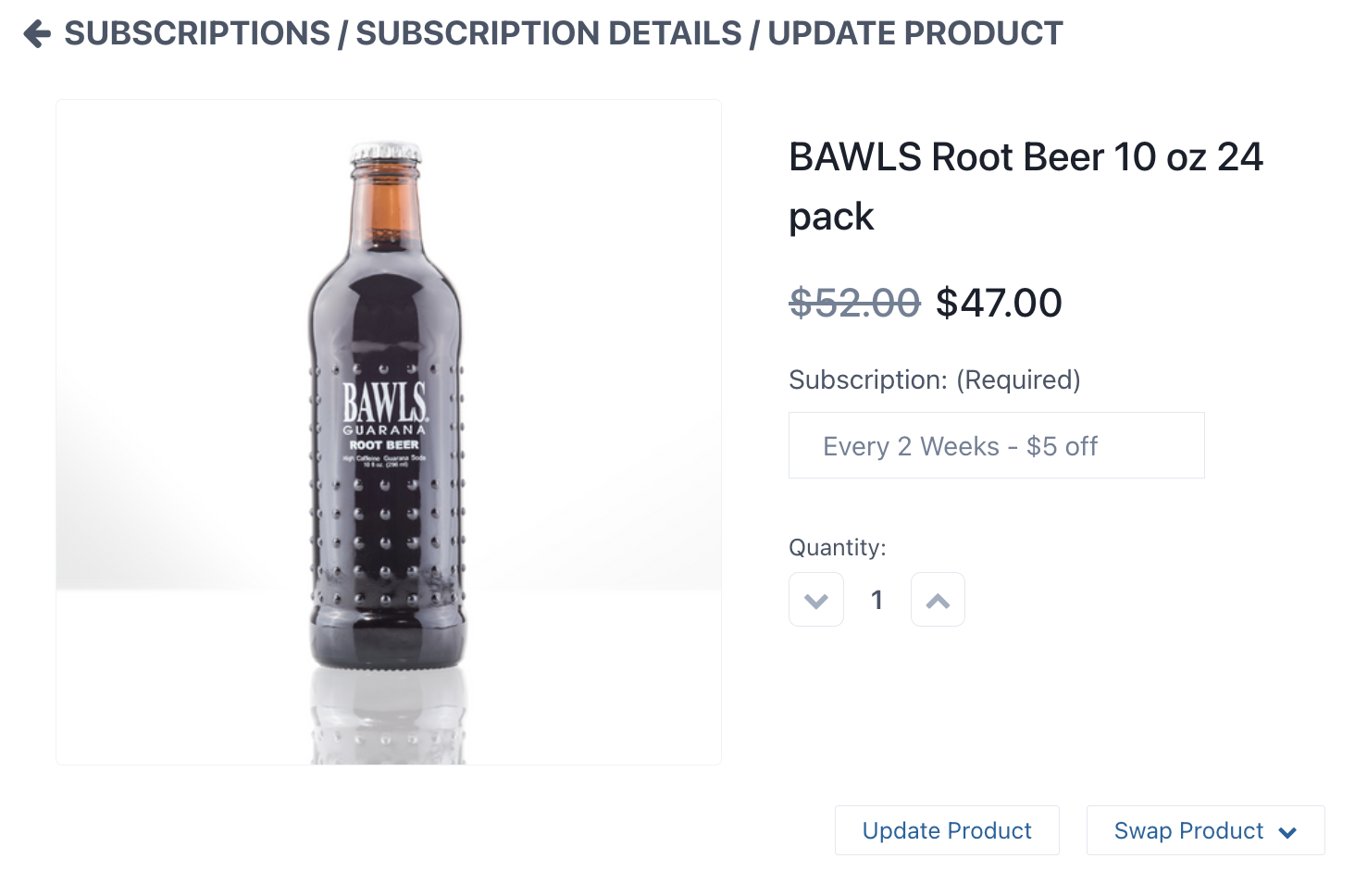 Click the "Swap Product" dropdown in the bottom right to choose another flavor. Once selected confirm your frequency and quantity is what you want and the click "Update Product".
Can I add another case to my subscription? 
Add as many as you want! All you have to do is click "Change Quantity" in the "Actions" dropdown, and adjust to quantity to you liking. Don't forget to click "Yes, I Confirm" in the bottom right once you're ready. 
How do I cancel my subscription?
Cancel your subscription at any point. Click "Cancel Subscription" in the "Actions" dropdown and confirm the cancelation. 
You can always pause your subscription! That way you can easily resume whenever you'd like.
Is it possible to skip my next shipment?
Skip as often as you'd like. Click "Skip Next Shipment" in the "Actions" dropdown and confirm.